FOREWORD MESSAGE BY THE PRESIDENT
The Afro Global Alliance (world wide) NGO vision, adopted by its board of trustees was the product of extensive consultation with all stakeholders. In order to operationally enforce this vision, the boards have approved organizational structure that will carry up the pursuit of these goals. So it is with great pleasure that I share with you some thoughts on the milestone in the NGOs evolution.
It is important to note that this vision is a collective effort that will involve both people within and outside the organization. I am convinced that with a broadly shared vision Afro Global Alliance will attain the levels of development effectiveness and results expected by its partners and affiliates alike.
I hope you will find this vision innovative and thank you in advance for sharing with us, at your earliest convenience, any comments and observations you may have with a view to their incorporation in coming reviews. To that end, I wish to thank you for your continued interest and support to Afro Global Alliance and its development activities.
However, following the pivot of the AGA motto "United and Diversified" it supports and promote sustainable policies disintegrated by other stakeholders to serve as the main framework for the coordination, monitoring and evaluation of decisions / activities of the civil society.
The AGA proposal will soon be available at www.afroglobal.org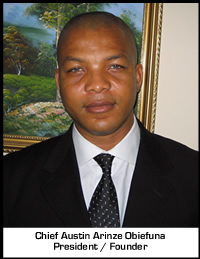 Austin Arinze Obiefuna
President/Founder
Afro Global Alliance (International)