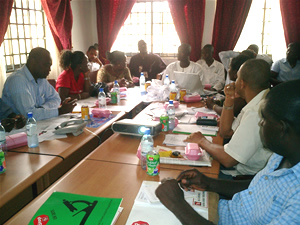 NATIONAL TB ADVISORY BOARD MEETING, GHANA
The first National Advisory Board meeting of the year 2007 was health at the National TB Control Programme office on the 8th of March 2007. The meeting started with a review of minutes from the previous meeting held on 23rd November, 2006 at the venue-NTP Korle Bu.
Present were Dr. Frank Bonsu, the Programme Manager NTP, Dr. J.S. Jehu Appiah, Dr. Kwesi Addo-NOGUCHI, Chief Austin Arinze Obiefuna-Afro Global Alliance/Stop TB Ghana, Margaret Afriyie-NTP, Ernest Kwesi Agyepong-Afro Global Alliance, Dr. Sally Anne Ohene-NACP, Cynthia Oware-NTP, Sam Dodoo-Stop TB news, Audrey Dekalu-GNA, Dr. Opata-WHO. The agenda was the introduction of the New treatment Regimen by Prof. Adukwei Hesse, Nutrition in TB care by Mr. Armah and the World TB Day by Dr. Frank Bonsu and Chief Austin Arinze Obiefuna.
However, the absence of some key presenters led to adjournment of some of the proceeding although most of the deliberations will be done electronically before the next meeting.